Logistics Achiever Awards 2019 Platinum Winner
Malawi Pharmaceutical Storage-in-a-Box Project - Resolve Solution Partners
Storage-in-a-box project
Resolve Solution Partners offers supply chain managed services, integrating operations through tailor-made supply chain management solutions.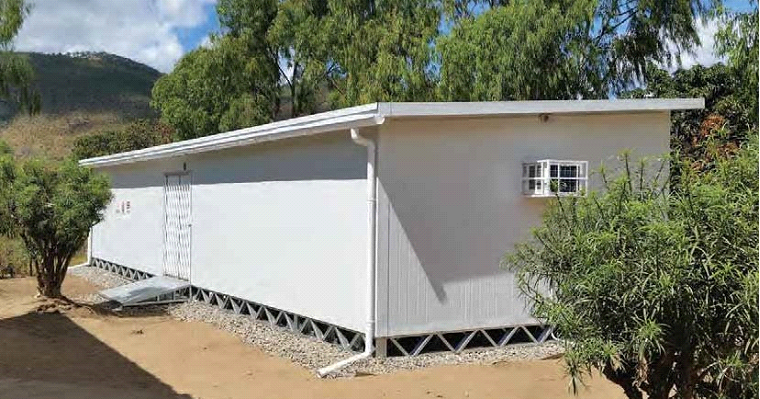 TO DEPLOY 239 medicine stores across the Malawian countryside within six months takes a great amount of logistics planning and coordination. Resolve Solution Partners' project logistics capabilities, coupled with its modular infrastructure solutions and previously implemented projects in-country, were part of the recipe for success in dramatically increasing access to essential medicine for the poorest rural patients across Malawi.
The challenge
Resolve was contracted by Chemonics and the Malawi Ministry of Health to design, engineer and ultimately deploy 239 medicine stores across Malawi. This was the third deployment phase of this nature, with Resolve also contracted for the ?rst two successful phases. The logistics challenges for this project were immense.
The solution
The secret to success lay in the synchronisation of Resolve's 20 deployment teams, across three regions, each running a sequence of deployment waves, and the just-in-time arrival of trucks carrying the components for each modular unit. One of the major challenges was the weather, with certain periods during Malawi's rainy season causing interruptions; bridges and roads were regularly washed away and trucks were only able to cover an average of 200km per day.
The primary transportation leg was between Johannesburg and Lilongwe. Primary load consolidation took place in Johannesburg, with secondary consolidation (by build-site) in Lilongwe and subsequent secondary delivery to site – timed to coincide with the deployment team's arrival.

The outcome
The project was completed within budget and within the planned time frame of six months. The 239 units represent the equivalent storage capacity of a 14,200 square metre warehouse with 3,560 pallet positions and 4,750 shelves. Half of the units (117) are stand-alone, off-grid, powered by solar PV systems, and two of the units are situated on islands in Lake Malawi.